The best way to get around in Munich is by bike. You save up on puplic transport (MVV) and can reach the Isar easily. Also a lot of fun i to rent electric scooter Emmy get with a BMW with drive now or rent a car for a day with the app Oply.
I have 3 bikes but two are broken at the moment. I am working to have always 4 bikes available for people visiting. But at the moment you could also use bike sharing services. Here is a little overview.
Bike sharing
Obike
The bike is pretty shitty but there are still many in the city. Riding with them is like a spinning workout also they do not have any gears. You can download the app and authenticate yout with facebook easily. The seem to be bancrupt in Singapur but at the moment they still work in Munich.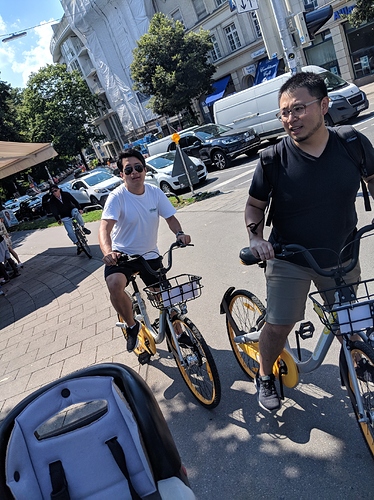 You can leave them anywhere except a couple of areas at the isar.
Donkey bikes
Donkey bikes have gears and are much better to ride.
You can only give them back at certain crossroads.
Nexbike
The bike is also better then a obike but there are very view bikes in the city
https://www.nextbike.de/en/muenchen/
MVG Rad
Also a good option is the MVG Rad. There are many in the City
https://www.mvg.de/services/mobile-services/mvg-rad.html
Buy a bike
You can also try to try to buy a bike. Facebook Market place or Ebay Kleinanzeigen but the best deal you will make at the Fleamarket of the city where they sell all the bikes they collect during the year.
Emmy electric scooter
For 19 ct per minute, you can rent an electric scooter. There are many in the city. It costs 24 € a day. The registration is very easy. You just need to make a picture with your drivers license.
If you use my promotion code
ezIRZR0R
Drive Now
With Drive now you can rent Minis and BMWs (electric, 1er, 3er, X3) per minute and with hour packages. To register you first need to register online and then collect a card add a sixt shop. But you can also use the service without card.
https://www.drive-now.com/de/de/how-it-works/
Oply
A new car sharing service is oply. Registration is very eay and you can rent cars for 6 € an hour.
This is for day trips to the country side as you have to return the car in the same neighborhood.
MVG
Sure you can also use public transport. You can also by the tickets with an app. Make sure to buy it before you enter the station.
https://www.mvg.de/services/mobile-services/mvg-handyticket.html